Website Templates
A Great Collection of Web Templates For Dreamweaver, Expression Web, And Visual Studio With A Professional Web Design Framework. Dreamweaver Templates, Expression Web Templates, Visual Studio Templates. Professional HTML Templates and CSS Templates That Are Easy To Use.
Learn With It. Build With It. Have Fun. Be Successful
What's Included
We have a great collection of web templates and resources for every project. The $29 purchase includes:
150+ Professionally Designed Website Templates created with standard HTML and CSS with JavaScript and JQuery and all future updates. One purchase. Lifetime Use.
All the course materials for our training tutorials from our Youtube Channel on Adobe Dreamweaver, Microsoft Expression Web, and HTML and CSS - Completed projects plus handouts
Read Our Full Terms, Conditions and License
A great resource for individuals and businesses and for web designers looking for a resource to speed their development for clients.
The web templates are standard HTML and CSS Web Templates that use JavaScript and JQuery so they are easy to use. You can preview how the designs appear on desktops, tablets and smart phones by browsing our template gallery and if the templates will meet your requirements. They are not mobile applications or responsive layouts (responsive layouts are designs that change their appearance and layout for mobile devices such as smart phones so the website looks different on smaller screens.)
If you're looking for a solution for mobile website development a good place to start looking is at Bootstrap templates. You can find some Bootstrap templates at ThemeForest.net (External Link)
What's Not Included:
Since every web hosting service is different you will need to get the server script they use to send you form submissions - the form to email script. Check with you're web host to see if they support this. If your web host doesn't support this, our templates can be used with Wufoo.com forms. You can find tutorial guides for Wufoo.com here -> http://www.wufoo.com/guides/
If you are planning on using a search tool on your website, you will need to get the search script from your search provider. Google Custom Search is a good service that may fit your needs.
Your purchase does not include any materials, templates, or resources for other sites or third parties such as Godaddy, Hostgator, Envato, Google, Bing, or Wufoo.
Purchase does not include individual training or support for customizing the templates.


Do You Have Online Store Designs?
Our website templates can be used to create basic online stores with Paypal Buy It Now style buttons, but they are not dedicated eCommerce designs with shopping carts or payment processing.
Themeforest has a number of options for online stores and eCommerce solutions that might work for you. Click Here To Go To ThemeForest's eCommerce Templates and Tools. (External Link)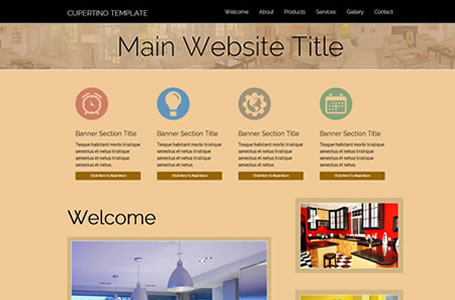 Your purchase includes all the templates we have currently released, and any future updates to those templates we publish in the future. There will never be additional fees or charges.
One purchase Unlimited Use Lifetime Use.
Reasons To Use Our
Website Templates
There are lots of great reasons to use our website templates.
Each of our web templates is professionally design and ready for you to use. Our website templates have a wide variety of styles, layouts and colors for your to choose from.
Our website templates are easy to use. Just replace the default filler text with your own and replace the images with the ones your want and your ready to publish the website. If you're more experienced in web design, our web templates are created using standard HTML/CSS and JavaScript/JQuery and are easy and straightforward to customize to meet your needs.
The web templates are standard HTML and CSS Web Templates that use JavaScript and JQuery so they are easy to use. You can preview how the designs appear on desktops, tablets and smart phones by browsing our template gallery to see if you like them.

Do you have Responsive Templates?
Only a few. Responsive layouts are designs that change their appearance and layout for mobile devices such as smart phones so the website looks different on smaller screens. We do have some examples of responsive templates for those wanting to try a responsive design option.. Click Here for a list of our basic responsive templates or look below for more responsive templates from others.
Looking for Responsive Templates?
If our simple templates don't meet your needs and you are interested in seeing more responsive templates, Envato has a great collection. Click Here To Visit The Envato Store. Please Note: Envato is a completely different company.
Please note: Responsive templates require more knowledge and experience in web design and may not be appropriate for all users. You can also consider Bootstrap templates if you are looking for a mobile device solution. Tuts Plus has many great tutorials on lots of topics and may be able to help you learn responsive design.

Do You Have WordPress Themes?
No we do not sell WordPress Themes, but we recommend you consider looking at ThemeForest for WordPress themes. Click Here For The TThemeForest Marketplace. (External Site)

Domain Name and Hosting Discounts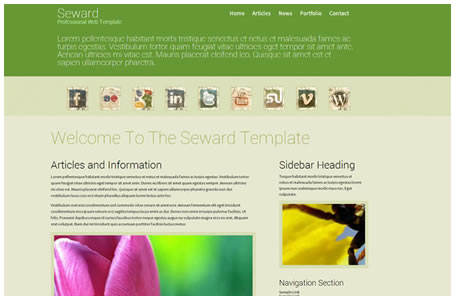 We very proud that our collection of website templates is both professionally designed and very easy to use. If you've been disappointed with other website templates, you'll be pleasantly surprised by how easy it is to use our templates.